We all want to take better pictures. Here are 3 proven things you need to know to help you take better photos.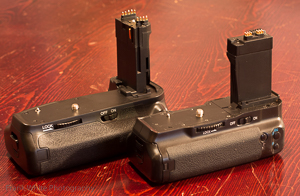 Using a battery grip on your DSLR solves two problems. First, it doubles your shooting time by doubling your battery power and second; it allows you to turn your camera 90 degrees for portrait shots without the awkwardness of reaching around for the shutter button.
If you are new to photography you will probably hear the term, "Focus and Recompose". Focus and Recompose is the process of using your camera's best or desired focus point to get an image in sharp focus and then moving the focus point away from the subject to get a better composition.
I matched the Sigma 50mm f1.4 Art against the Canon EF 50mm f1.4 prime lens and was surprised by my anecdotal findings. The older, much less expensive Canon EF 50mm seemed to hold its own against the much more expensive Sigma prime 50mm.
Subcategories
Enjoy the Frank White Photography Newsletter
Shoot 'em with a Canon!
If you are going to shoot anyone today, Shoot 'em with a

Canon

! or a camera of your choice.
Go to top